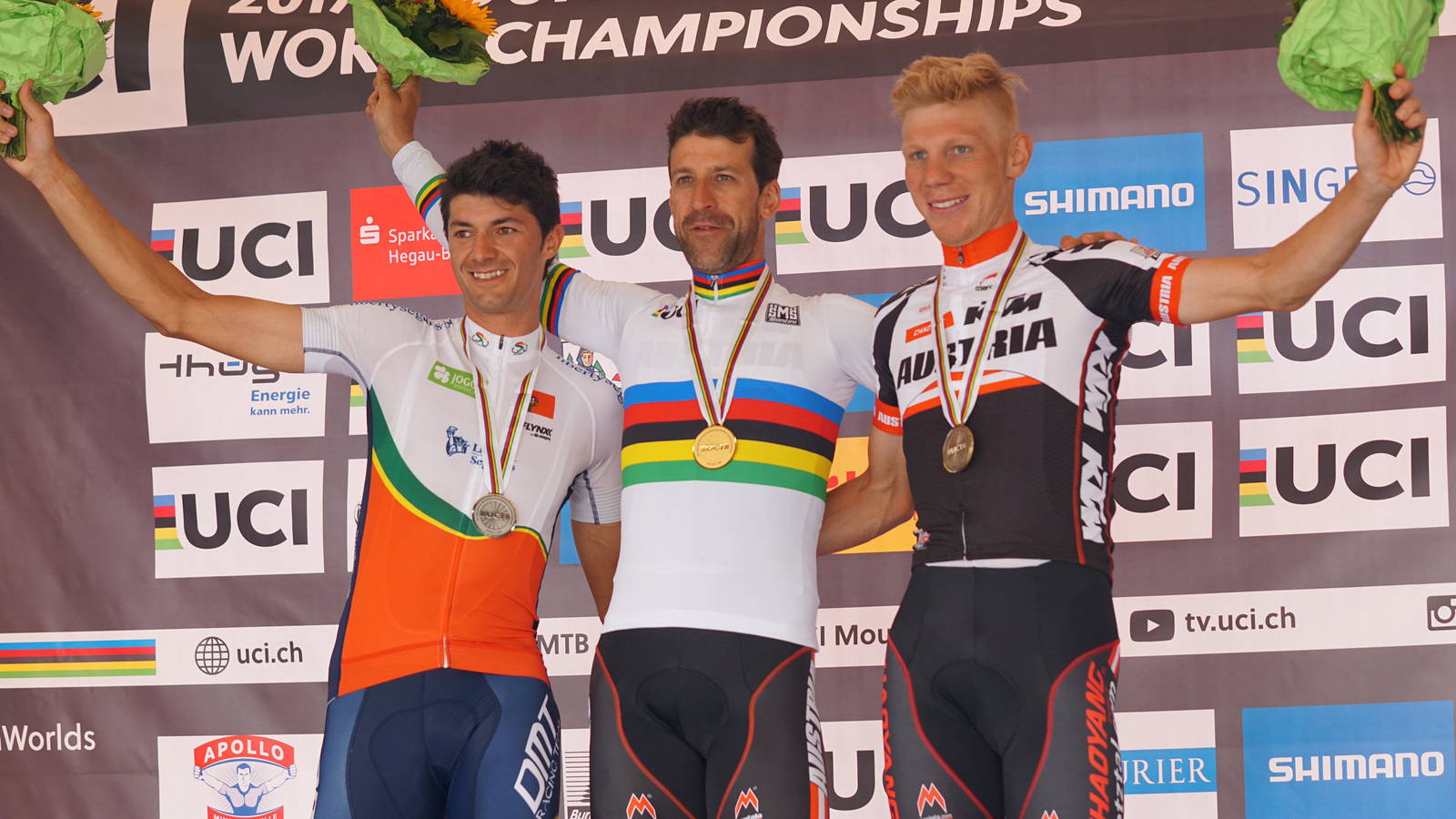 Bronze medal for Daniel Geismayr and top results for the rest of the CENTURION VAUDE Team
2017-6-27
A great race took place in Singen/ Hegau last weekend – the UCI MTB world championship. All of our riders Daniel Geismayr, Hermann Pernsteiner (both AUT), Markus Kaufmann and Jochen Käß (both GER) were considered among the favorites of this race and were able to present themselves in top form.
The track, not far away from the teams headquarter had a distance of 98Km, was technically not too challenging and was equipped with a lot of short hills. The weekends' starting field with about 180 riders was reported as one of the strongest, counting lots of Top riders from other cycling disciplines. During the first half of the race the leading group was defined by a throng of 20 men, including all of our CENTURION VAUDE riders. After about 65Km the last years world champions started an attack and teared a whole into the group. Geismayr was able to keep pace and also his team mates Kaufmann, Pernsteiner and Käß didn't fall too far behind. On the last singletrack Gaismayr was able to leave the opponent from the Netherlands, Mathew van der Poel, behind and to keep up with the two front riders Alban Lakata (AUT) and Tiago Ferreira (POR). Back in Singen on the home straight the three riders started a sprint which Alban Lakata won before Tiago Ferreira and Daniel Geismayr.
Geismayr about his third place: "I knew that I was in shape and I knew that I would be able to accomplish something. But I wouldn't have expected that my day would end with a win of a bronze medal. I won the world championship bronze medal – I still can't believe it".
Pernsteiner claimed tenth place even though the track wasn't his favorite which shows us that he is up for more this season. Kaufmann who was the fastest german rider ended the race just shortly after Pernsteiner. Käß ended up being on place 19. Another excellent result for the CENTURION VAUDE Team: place 20 for Gabi Stanger in the women's race over 80Km